Support Stafford Hospital members join forces with health party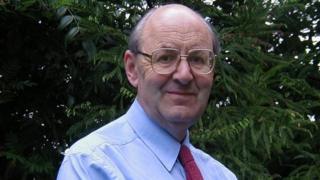 Members of a Stafford Hospital campaign group are joining forces with a political party opposing NHS changes.
The BBC has learned members of Support Stafford Hospital (SSH) are joining the National Health Action Party (NHAP), and considering fielding candidates.
Joint NHAP leader Dr Richard Taylor has announced he will stand, and comedian Rufus Hound said he would stand for European elections.
SSH said the group itself remained "apolitical".
Others expressed concerns the single-issue NHAP would not achieve its aims.
'Lots of interest'
The party is to set up a group in Stafford, where it could put up a candidate for election.
Cheryl Porter, from SSH, which led a 30,000-strong protest march against proposals to downgrade services, said she expected local people would get behind the group.
"I do feel that once the community realises it's here, they will have a hell of a lot of interest," she said.
Dr Taylor, 79, who held the Worcestershire Wyre Forest seat as an independent MP from 2001 to 2010, would not confirm if the NHAP would also field candidates for Redditch and Stafford.
But he said the party would meet soon to "clarify its target seats".
"We are only at the stage of discussing things at the moment," he said.
"We are going to be terribly, terribly careful where we stand, and that is going to be the subject of a lot of discussion."
Professor Mick Temple, of Staffordshire University, said the single-issue NHAP could "split the vote" if it fields a candidate for Stafford.
"They don't last long, because once you get into office you have got to deliver and voters get quickly dissatisfied," he said.