Arrests follow Tividale cleaning fluid attack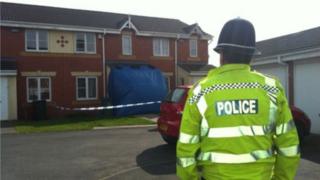 Six people have been arrested after a woman suffered serious burns when she was doused with what is thought to be a high-strength cleaning fluid.
The woman, 19, was attacked as she answered her door in MacDonald Close, Tividale at about 15:00 BST on Tuesday.
She suffered 15% burns to the side of her face and neck. Tests are taking place to see if she her throat and lungs have also been damaged.
Four men and two women have been arrested in connection with the attack.
Three men, aged 18, 19 and 23, from Warley have been arrested on suspicion of wounding. A 27-year-old man from Birmingham was arrested on suspicion of conspiracy to wound.
A 46-year-old woman from Warley, along with a 25-year-old woman from Birmingham, are being questioned on suspicion of attempting to pervert the course of justice.
A man in his 60s, who also came to the door at the house in Tividale, suffered minor burns in the attack.
'Targeted attack'
Earlier, West Midlands Police said CCTV showed the attacker running from the scene, along with three other men.
They are believed to be white men in their late teens or early 20s.
Detectives have plotted their path from MacDonald Close, into Addington Way, Portland Drive and along a footpath connecting Shelbourne Close and Palmerston Drive which leads onto Temple Way.
Det Insp Jim Munro said: "We believe this was a targeted attack.
"It's not clear what the substance is yet but initial thoughts are that it's some kind of high-strength detergent."