Names added to Cannock Chase miners' Hednesford memorial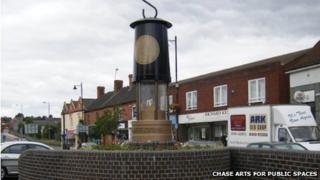 The names of 913 miners who worked in the Cannock Chase coalfields have been added to a memorial in Staffordshire.
The names have been engraved on individual bricks at a cost of £20 each and placed around a statue of a Davy Lamp in Hednesford town centre.
Thousands of people attended a dedication service in the town on Saturday, organisers said.
The Cannock Chase coalfields once supported 48 coal mines with the last, Littleton, closing in 1993.
More than 3,500 miners are now named on the memorial.
Mike Mellor from Chase Arts In Public Space (Chaps), which organised the project in 2012, said after the first 1,000 bricks were laid in 2012 they "had been inundated with requests to add more".
He said: "This is the third phase of adding names.
"It goes to show just how important the role of the mines were in this community, every time you go up there someone has left flowers there so it's become a focal point for people to remember those who worked in the coalfields."