Rodney Marsh cleans Stoke City players' boots after losing online argument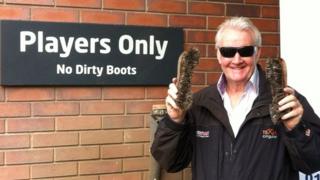 Former England striker Rodney Marsh has cleaned the entire Stoke City squad's boots after he lost an online bet with fans.
Marsh tweeted in November he would "drive to Stoke and personally clean every player's boots" if the team appeared first on Match of the Day.
The side's 3-2 win over Chelsea was top of the programme's bill on 7 December.
Marsh, who now lives in America, performed his forfeit at Stoke's Clayton Wood training ground.
The Saturday night football programme usually shows the most attractive or important match first.
The ex-Fulham, Queens Park Rangers and Manchester City player previously confessed he wished he had "kept his mouth shut".
"I said if Stoke were ever first on Match of the Day I'd drive up there and clean the player's boots - that's how confident I was it would never happen," he said.
"It happened, and here I am. Man of my word."
All boots cleaned by Marsh will be signed by the Stoke City squad and auctioned off to raise funds for the Donna Louise Children's Hospice in Trentham.
Marsh played more than 500 games for the three clubs during his career and has also worked as a television and radio pundit.