Staffordshire hospitals to get £91m improvements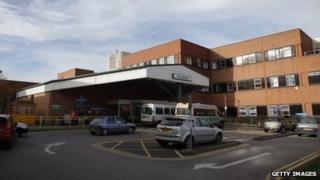 More than £91m is to be spent building new wards and improving facilities at two hospitals in Staffordshire.
A new operating theatre will be created at The University Hospital of North Staffordshire (UHNS) along with space for 64 beds and a new car park.
Facilities at Stafford Hospital for day surgery will be improved and wards will be refurbished, hospital managers said.
The government is funding the work as part of plans to dissolve the NHS Trust which runs Stafford Hospital.
The Mid Staffordshire NHS Trust has been in administration since April 2013.
Proposals to downgrade maternity services, paediatrics and critical care at Stafford were confirmed by the Health Secretary Jeremy Hunt in February.
Those services are being transferred to the UHNS, which is also taking over the running of Stafford Hospital.
Director of corporate services, John Simpson, said about £48m would be invested at the UHNS, with about £43m spent at the Stafford Hospital site.
"We expect work to start in the middle of June for the UHNS scheme, with completion this time next year. The Stafford scheme will follow from that," he said.
The hospitals have not said how many new nursing jobs could be created but Mr Simpson said the government had given a further £39m to help with the moving of services and staff between the two sites.