Stoke-on-Trent food bank in £200k lottery award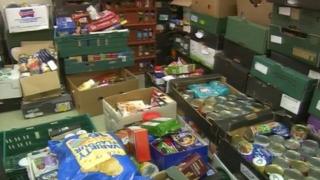 A food bank has received a lottery award of more than £200,000.
Stoke-on-Trent food bank said the money would help provide emergency food for those in crisis and would double the number of distribution centres to 16.
The £214,803 Big Lottery Fund grant will also pay for a new roof for a warehouse and more part-time workers.
A spokesperson for the group said that since May 2012 they had helped feed more than 19,000 people with 172 tonnes of donated food.
Chair of trustees Kirsty Scullion said: "We're in an area of deprivation in Stoke-on-Trent but we rely heavily on volunteers and the donations of people in the city.
"The funding was able to just really go on building an infrastructure and really develop and expand the food bank."