Stafford Hospital: Plan to scrap the trust delayed 'until November'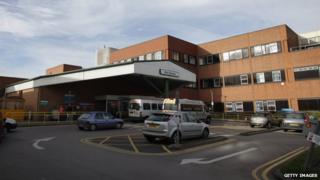 Plans to dissolve the trust that runs scandal-hit Stafford Hospital have been delayed by a month.
Administrators said the scrapping of the Mid Staffordshire NHS Trust had been put back from October until November due to Parliamentary recess.
The trust's two hospitals will remain open although some services will be moved to neighbouring trusts.
All staff would be transferred on their current pay and conditions, administrators said.
Stafford Hospital will become part of the University Hospital of North Staffordshire in Stoke-on-Trent while Cannock Hospital will become part of the Royal Wolverhampton Trust.
Health Secretary Jeremy Hunt approved plans to dissolve the trust in February, with services including paediatrics and critical care being relocated.
'Fragile state'
In a statement, the Trust Special Administrators (TSA) said: "For dissolution to occur, both the House of Lords and the House of Commons must be sitting.
"We fully comprehend the fragile state of the trust, and are equally aware of the need to achieve the transfer of services quickly."
The TSA said some hospital staff would be asked to take on new roles but the majority would stay in the same jobs.
It said all staff would know their futures by the end of June.
The Mid Staffordshire NHS Trust was criticised in February 2013 at the conclusion of a public inquiry headed by Robert Francis QC for causing the "suffering of hundreds of people" under its care between 2005 and 2008.
The inquiry criticised the cost-cutting and target-chasing culture that had developed at the trust.
The trust has been in administration since April when services were deemed "unsustainable" by watchdog Monitor.