Stafford college to shed more than 60 jobs after government cuts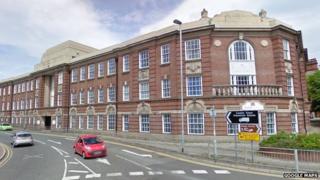 More than 60 jobs are to go at Stafford College because of government funding cuts, bosses have said.
Its funding has been reduced by £1m to £19m for 2014-15. It said half of the job losses would come from voluntary redundancies and retirements.
It said management and administrative posts were most likely to go but it has no plans to close courses.
The Department for Education (DfE) said the college's funding had been reduced because of a fall in student numbers.
Principal Beverley Smith said a consultation with staff had begun.
"We are making every effort to reduce the need for compulsory job losses although some will be unavoidable," she said.
"Our priority remains the provision of excellent teaching and superb support for achievement by our students.... senior management and administrative positions are therefore significant areas for review."
A spokesman for the DfE said: "Funding for colleges is linked to pupil numbers.
"Stafford College's funding has reduced because pupil numbers have fallen by more than 200 in the last academic year."