Staffordshire Police voluntary leavers cost £1.5m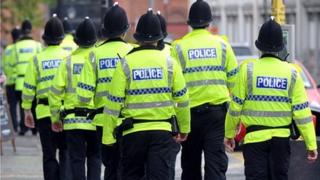 Thirty-eight officers voluntarily left Staffordshire Police in the past year at a cost of £1.5m, the force has said.
In January 2013, the Home Office approved a voluntary exit scheme (VES), which forces could choose to adopt.
A spokeswoman said Staffordshire was so far the only force to have made use of the system.
Police accounts showed payouts ranged from up to £20,000, awarded to nine officers, to up to £120,000 for one officer.
The total bill for the 38 officers who left under VES in 2013/14 was £1,563,663.
'New recruits cheaper'
The force said this amounted to savings of £862,000 in pay in the past year, and the scheme would "pay for itself" within 21 months.
Leavers were often at the top of their pay scale so new recruits were cheaper, it added.
Suzanne Birchall, head of business services at the force, said: "We believe the scheme offered value for money.
"The officers elect to apply for the scheme and the force has to agree each request on its merits."
Assistant chief officer Nigel Brook, from the Association of Chief Police Officers, said it was up to individual forces to decide whether to use VES.
It comes after Staffordshire stopped using the controversial A19 regulation on 1 January last year to forcibly retire officers who completed 30 years' service.
Ms Birchall said the VES "should not be seen as a replacement for A19", rather it was one of a number of options to manage the workforce and make savings.