University Hospital of North Staffordshire's A&E evacuated 'over weed killer'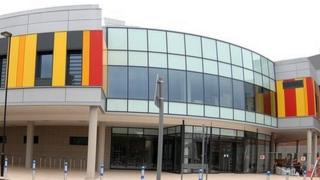 Up to 40 people had to be evacuated from a hospital accident and emergency department over fears of a chemical contamination.
Staff at University Hospital of North Staffordshire called fire crews when a child complained of eye irritation.
Firefighters were called to identify the substance affecting the child and decontaminate members of the public.
The fire service said it was later found to be a domestic weed killer and "classed as low hazard".
A&E was evacuated on Friday evening as a precaution, Staffordshire Fire and Rescue Service said.
Brian Griffiths, group manager with the service, said crews "decontaminated" the child and his parents, who had brought the substance into the hospital, and "two to three" members of staff.
The bottle of weed killer was removed from the building and the department was ventilated.