WW1 stories on National Memorial Arboretum sculpture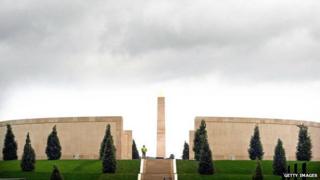 Visitors to the National Memorial Arboretum are being asked to add their family stories from World War One to an artwork.
The temporary outdoor sculpture, the Memory Tree, is being made to mark the centenary of the outbreak of WW1.
Artists Julie Edwards and Ron Thompson, of Planet Art, are spending a week at the site in Alrewas creating the sculpture from different types of wood.
The stories will be written on "leaves" on the tree sculpture.
The arboretum will open until 21:00 BST on 4 August for a candlelit vigil.
Ms Edwards said: "Like most people in the UK we have personal family stories regarding great-grandparents, aunts and uncles who died on battlefields in France or worked on the Home Front.
"The ideas we want to draw on for the Memory Tree are personal family stories of those who fought or contributed to the war effort and we would urge people to bring along copies of photographs, extracts of letters, pieces of poetry, stories and artefacts which relate to World War I in any way and can be used to create the Memory Tree."
It is hoped the artwork will be a piece of social history that can be used and studied in the future.