Nine arrested as two-day rooftop anti-war protest in Shenstone ends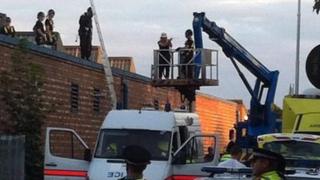 Nine people have staged a two-day protest on the roof of a factory that produces engines for drone aircraft.
Members of the London Palestine Action group climbed on to UAV Engines' roof in Shenstone, Staffordshire, at 05:00 BST on Tuesday, closing the plant.
They said they were campaigning against UK arms sales to Israel.
Staffordshire Police officers went on to the roof at 18:15 BST and by about 20:30, all protesters had been arrested, it tweeted.
Glued hands
BBC reporter Phil McCann said a man was removed and put in a cherry picker before others were gradually taken down.
They were arrested on suspicion of aggravated trespass.
Negotiations started after one man attempted to glue his hands together earlier on Tuesday. He was later arrested.
The firm, which produces engines for unmanned aerial vehicles and is owned by Israeli arms manufacturer Elbit, has yet to comment.
A spokesman for Staffordshire Police said the force had been working to resolve the situation safely.