Staffordshire Police: Taser use is 'last resort'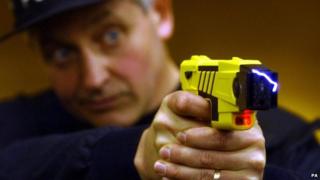 A review into the use of Tasers by Staffordshire Police has found officers discharged them in 1 out of 10 occasions when they were drawn.
The force was shown to have the highest use of Tasers per capita in the country in a report by the IPCC in July.
An independent panel found they were only discharged on 72 occasions and drawn "as a deterrent" 547 times over nine years.
The force said the use of a Taser was "a last resort for officers".
Staffordshire Police used a Taser 33 times for every 100 officers in 2013 and a total of 619 times in nine years, according to the police watchdog the IPCC.
'Real harm'
But an independent panel set up by the Staffordshire Police and Crime Commissioner (PCC) Matthew Ellis said the figures were misleading.
Mr Ellis said: "The IPCC's report which did not differentiate between Taser use as a deterrent without discharge and actual discharge of Tasers.
"Following the review... I'm satisfied that police in Staffordshire keep the discharge of Taser to a minimum and in very specific circumstances."
The panel said it was alarmed by the high rate of Tasers being used in incidents where mental health was a factor.
It also called for all uses of the weapon to be recorded by officers' body-worn video cameras so it proved a warning had been issued before it was discharged.
Chief Constable Jane Sawyers said: "The discharge of a Taser is a last resort for officers facing situations when people are threatening to cause real harm to members of the public, the officers or themselves."