Mary, Queen of Scots letter auction 'could fetch $20,000'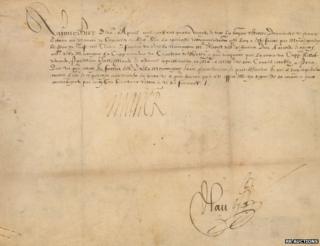 A letter signed by Mary, Queen of Scots months before her execution is due to be auctioned.
The manuscript, dated 30 April, 1586, was written while the monarch was incarcerated at Chartley Manor in Staffordshire.
RR Auction, based in the American city of Boston, said they expected the item to sell for £12,000 ($20,000).
They said the letter, which bears some "folds" and "creases" was acquired from a private collector.
'Phenomenal interest'
The auction begins at 15:00 local time (21:00 BST).
The manuscript is written in French on vellum, signed by Mary and countersigned by her secretary, Claude de la Boisseliere Nau.
The document concerns the castle of Wassy, located in eastern Champagne, France, over which Mary held captaincy.
On the advice of her cousin the Duke of Guise, the letter shows the queen signed captaincy over to his maitre d'hotel, Jacques de la Montaigne.
Months after signing the manuscript, Mary was implicated in the Babington Plot to assassinate Queen Elizabeth I and sentenced to death.
She was eventually executed at Fotheringhay Castle, Northamptonshire, on 8 February, 1587.
RR Auction's executive vice president Bobby Livingstone said the firm was "really thrilled" with the item.
"It's signed so close to her execution, she's already been imprisoned and is awaiting her fate," he said.
Mr Livingstone said he expected the final sale price to exceed the $20,000 estimate after "phenomenal" international interest.