Gurkha memorial unveiled at National Memorial Arboretum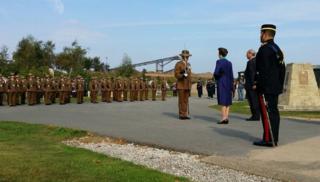 The Princess Royal has unveiled a memorial to Gurkha soldiers killed while serving in the British Army.
The Chautara, a stone resting place traditionally used by Nepalese Sherpas, has been dedicated at the National Memorial Arboretum in Staffordshire.
More than 200,000 Gurkhas served during the two world wars, according to the National Army Museum.
A series of events is planned for next year, marking the 200th anniversary of Gurkha service to Great Britain.
The name Gurkha comes from the hill town of Gorkha in Nepal
Britain began recruiting Gurkha fighters in 1815, a year after suffering heavy casualties during an invasion of Nepal.
Following the partition of India in 1947, an agreement between Nepal, India and Britain meant four Gurkha regiments from the Indian army were transferred to the British Army, eventually becoming the Gurkha Brigade.
Gurkha soldiers have been awarded 26 Victoria Crosses.
In 2009, all Gurkhas veterans who retired before 1997 with at least four years service were allowed to settle in the UK, following a campaign fronted by the actress Joanna Lumley.
Veterans are continuing a campaign to get the same pension rights as the rest of the British Army.
The brigade headquarters is at Camberley, Surrey and the Gurkhas Rifles are based at Shorncliffe Camp, Folkestone, Kent.