Lichfield cathedral sees Herkenrode glass return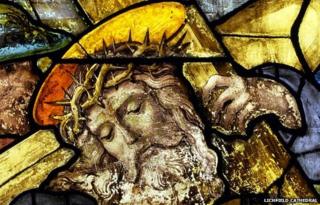 Work has started to reinstall stained glass windows as part of a £3.7m restoration project at Lichfield Cathedral.
The glass, dating back to the 16th Century, is believed to be one of the finest collections of its kind in the world.
It was originally designed for an abbey in Herkenrode in modern day Belgium.
The collection was removed for restoration in 2010 and preparatory work has started on the Lady Chapel.
The glass is expected to be reinstalled next month.
The Herkenrode panes was brought to Lichfield in 1803, to replace windows damaged during the Civil War.
The cathedral said despite surviving both political and religious upheavals, it came under threat due to the effects of the weather and pollution, as well as crumbling masonry in the Lady Chapel.
Restoration work has seen stonework strengthened in the south and north choir aisles, and parts of the exterior of the Lady Chapel replaced.