Stafford Hospital: New trust to run renamed hospital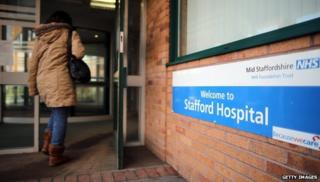 A new trust is being set up to run the scandal-hit Stafford Hospital and a second hospital in Stoke.
University Hospital of North Staffordshire NHS Trust will become University Hospitals of North Midlands and will operate both hospital sites.
Stafford Hospital, which will be called County Hospital, was at the centre of a £6m public inquiry into care failings.
Mid Staffordshire NHS Foundation Trust, which ran Stafford, will be dissolved next month.
The NHS in Staffordshire has been given £300m to implement the changes.
City General will be re-named as Royal Stoke University Hospital.
The new trust will come into being on 1 November.
The Mid Staffordshire NHS Trust went into administration in April last year after a report concluded it was not "clinically or financially sustainable".
Campaigners from Support Stafford Hospital Group have been camped on fields opposite Stafford Hospital since mid-July.
It has already been announced that some services would move from Stafford, under the control of Royal Wolverhampton NHS Trust, which takes the cost of the changes to "well over £300m".
Mark Hackett, chief executive-designate of the new trust, said the figures were "considerably more" than first estimated.
He said part of the money would go towards refurbishing the A&E department at Stafford, in order to double the space and reduce overcrowding.
However, there are currently no plans to return to a 24-hour A&E service at the hospital, which switched to overnight closures in 2011.
"What's clear to us is the current A&E department is overcrowded and we need to be putting more staff and facilities in, to deliver world-class care," he said.
"We are determined to do that."
Speaking about the new trust and subsequent changes that will be introduced, Mr Hackett said: "This is a once in a lifetime opportunity to rejuvenate our hospitals.
"The people of Stafford have faced uncertainty for too long."
Hospital moves
Mid Staffordshire Trust will be dissolved next month
Stafford Hospital will become part of the UHNS
Cannock Hospital, also run by the Mid Staffordshire Trust, will become part of the Royal Wolverhampton Trust
The Mid Staffordshire Trust went into administration in April 2013
At the time, health watchdog Monitor said it was clinically and financially "unsustainable"
Barry Davies, a former nurse and a member of Support Stafford Hospital, said the proposals had not been properly considered, and that moving services and staff out of Stafford to UHNS would leave people in the town at risk.
"This hospital should be being upgraded, not having its staff stolen and services stolen.
"We are going to get deaths."
Analysis
Phil McCann, BBC Radio Stoke political reporter
Despite the improvements in care over the last few years, Stafford and Staffordshire are still very much damaged brands for the NHS, so a name change removing both has long been on the cards.
The £300m government investment announced for both hospitals is double the amount recommended by the administrators who've been running Stafford for the last few years.
But it'll take more than that to persuade a sceptical public still concerned about services being taken away from Stafford and overcrowding in Stoke.
Other parts of the NHS have their eyes on Staffordshire once again, but this time it'll be to see if the process can be repeated elsewhere.
'Guinea pigs'
Paul Wilson, member of Support Stafford Hospital Group and former chair of the Mid-Staffordshire Community Health Council, said the role of the ambulance service had not been considered in the plans, and questioned how emergency patients would be safely and quickly transferred between hospitals.
"It looks to me as though patients will be the guinea pigs for a risk assessment after the event," he said.
New facilities in Stafford include a refurbished midwife-led maternity unit, a new frail-elderly assessment service, and the opening and refurbishing more wards and operating theatres.
At Stoke there will be an additional 64 beds across a number of wards, 12 additional beds in the new critical care unit, a new 28-bed children's ward and a new orthopaedic centre with 56 new beds.