Stafford fireworks blaze: Firms return to Baswich estate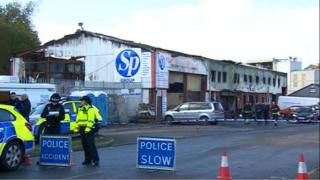 Firms based at a business park where a blaze in a fireworks warehouse killed two people have begun to return.
The Baswich industrial estate in Stafford had been cordoned off while police investigated the fire which broke out on Thursday.
Two men were killed in the fire at SP Plastics and two others were injured.
Staffordshire Police continued to investigate the premises on Monday, with the cause of the fire yet to be determined.
Stephanie Horton, director of River Canal Rescue, based in a neighbouring unit, said she had returned to find her office without a floor.
Ms Horton, who was present when the blaze broke out, said it would take "a lot of work" to get the firm back on its feet.
"It isn't emotional - it was just a business and we are lucky we didn't lose anyone out of our team," she said.
The bodies of Simon Hillier, 41, and Stewart Staples, 57, were found on Friday.