Stafford County Hospital protest camp 'not moving'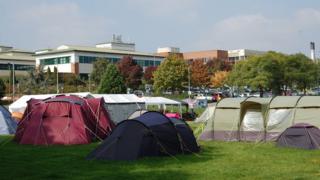 Hospital campaigners in Stafford say they have no plans to move from a protest camp, despite building work due to start early in the new year.
They have been based at the former Stafford Hospital since 18 July.
The group is protesting against the downgrading of maternity and paediatric services at the site, as well as emergency surgery.
University Hospitals North Midlands (UHNM) NHS Trust said the changes would lead to better care for local people.
It took on the newly-named County Hospital in October.
As Stafford Hospital, it had been at the centre of a major public inquiry into care failings between 2005-2008.
UHNM has been given planning permission to create a temporary car park on the land currently occupied by the protest camp.
'Very determined'
Julian Porter from the Support Stafford Hospital group said protesters had no intention of moving.
"They're very determined," he said.
"There are some pensioners and I would love to get them off there, but nobody's for moving until we get some assurances from the hospital trust."
He called for the trust to delay the transfer of some services, particularly emergency surgery, trauma and other support for A&E.
Consultant-led maternity care is due to move to the Royal Stoke University Hospital on 16 January. Emergency surgery and paediatric care is expected to follow later.
UHNM said the previous hospital trust was declared financially unviable and the changes, which come with £250m investment, were backed by the secretary of state for health.
Last week, the hospital trust, recorded the second worst A&E figures in England, with just 65% of patients seen within four hours, compared with the government target of 95%.