County Hospital service moves 'will ease pressures'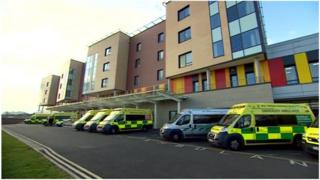 Transferring services from County Hospital to the Royal Stoke University Hospital will help staff manage current pressures, a health boss has said.
David Flory, NHS Trust Development Authority chief executive, was responding over A&E waiting times at Royal Stoke at Christmas.
The hospital said patients had to wait for up to six hours to be seen, following "unprecedented demand".
Mr Flory said the transfers were expected to have a "positive effect".
In a letter to Stafford MP Jeremy Lefroy, Mr Flory said he was continuing to review the hospital's position to assess the risks and benefits of transferring services from County Hospital, the new name for Stafford Hospital, to the Royal Stoke.
"As part of this we have assessed whether deferral of the service transfer date may assist local staff in dealing with the current pressures," he said.
"My conclusion is that service transfers are expected to have a positive effect for local staff in managing the current pressures and should therefore go ahead."
A&E performance
He said he had taken into account assurances from senior medical staff and nurses from elsewhere in the country and the additional capacity the move would give the hospital.
Emergency surgery and consultant-led obstetrics are expected to move to the Royal Stoke in January and February.
Last week, the hospital trust was listed as the second worst in England for A&E treatment, with just 65% of patients seen within four hours, compared with the national target of 95%.
On Friday, Stafford Borough Council revealed its lawyers had advised there was "no basis" to mount a legal challenge against the transfer of services.
A protest group has been camped outside County Hospital since July over plans to downgrade it.
Stafford Hospital was at the centre of a £6m public inquiry into care failings.