HMP Featherstone vandalism and drug concerns revealed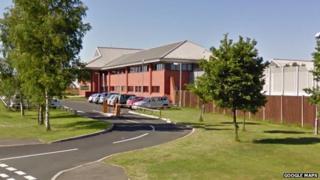 Concerns about vandalism, staffing and drugs at HMP Featherstone near Wolverhampton have been raised in a new report.
The Independent Monitoring Board also revealed problems with bullying and prisoners' property going missing.
But it praised the prison for "continuing to perform strongly", and highlighted its "effective" offender supervisor scheme and recycling rates.
The Prison Service said it was pleased workers' efforts had been recognised.
Black mamba
The report said HMP Featherstone's drugs team had worked with 227 inmates during the review period of 1 November, 2013 to 31 October, 2014.
It said there was a "major problem" with the use of psychoactive substances and synthetic cannabis such as black mamba.
On the issue of vandalism, the report said cells had been "repeatedly damaged" by disruptive prisoners and the cost of repair was high.
"Measures are now in place to try to recover the costs from the individuals involved," it said.
The report said staffing issues had led to a reduction in the delivery of some services, the cancelation of meetings and more limited gym activities.
Warning posters had been put up after an "increase in the use of weapons", the report said.
It said there were 26 reports of prisoners' property going missing.
A statement from the Prison Service said there was a "zero tolerance approach to drugs in prison".
"Our robust measures mean we are well below our drug testing target and we expect this good work to continue," it said.
"We have also recently strengthened our search strategy, leading to an increase in the number of weapons found at Featherstone."
It said all forms of violence at the prison were taken seriously and perpetrators were referred to the police.