Stafford Borough Council leader Mike Heenan 'to step down'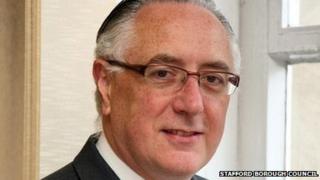 Stafford Borough Council leader Mike Heenan has announced he is to step down after 30 years as a councillor.
He has been leader since 2009 after an earlier period in office in the 1990s.
Last year, Mr Heenan survived a vote of no confidence, after failing to declare his involvement with three firms on Beacon business park.
He said the "time was right" to retire and he was looking forward to "doing the things I want to do".
Mr Heenan said he would officially step down as leader of the Conservative-controlled authority on 20 January, but would remain a councillor until elections in May.
He said he would not stand for re-election.
"I've been thinking about it for quite some time and obviously what I want to do is enjoy my retirement and I really just want a little more time for myself," he said.