Staffordshire children's centres set to close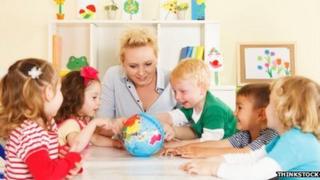 Forty six children's centres are to close in Staffordshire, under plans put forward by the county council.
Thirty five of them will be transferred to schools and libraries, on the condition they provide some services.
The local authority currently runs 57 children's centres, but said many were poorly used by the most vulnerable families.
The plans are expected to save about £3m a year and are due to go before the council's cabinet on 21 January.
Councillor Mike Lawrence, cabinet member in charge of children's services, said the gap in achievement by children in some of the most deprived parts of Staffordshire, compared with others in the county, was "widening".
"The number of children ready to learn and grow when they start school simply isn't high enough," he said.
The Conservative-led local authority said it would provide more support in the community, possibly through schools, or jointly commission services with other organisations.
Eleven centres will continue to be operated by the local authority, including Newcastle-under-Lyme, Cannock Chase Children's Centre and Charnwood Children's Centre.
Another 11 will stop being used by the council's early years team altogether, but it said in many cases these were buildings rented for just a few hours a week.