Burslem service marks Sneyd Pit disaster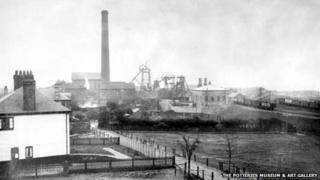 A memorial service is being held to remember miners who died in a Stoke-on-Trent pit disaster.
Fifty seven men and boys were killed in an explosion in Sneyd Colliery, in Burslem, on New Year's Day 1942.
Official records at the time concluded that it was caused by a spark from loaded wagons igniting coal dust.
The names of those who died are to be read out at a special service at Holy Trinity Parish Church in Burslem, later.
Local historian Mervyn Edwards said the service was "very important".
"There is a feeling that the huge pit disaster needs to be remembered and passed on to each generation," he said.
"It was the last major disaster in the area and had such a big impact on so many families."
Sneyd Colliery, once part of a huge mining industry on the Staffordshire coalfields, closed in the 1960s.
Mr Edwards said at the time of the disaster the industry was of "huge importance" to the area, as well as the war effort as a whole.
"It was one of the staple industries. You wouldn't have had the potteries industry without the coal industry," he said.