Lichfield Trent Valley Station work to start in 2016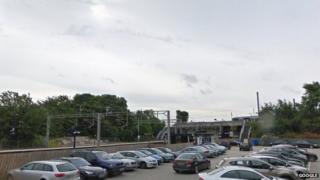 Work to install disabled access at a Staffordshire railway station will start next year, according to the Department for Transport (DfT).
Currently a bridge provides access between platforms two and three at Lichfield Trent Valley.
Speaking in the House of Commons, Lichfield MP Michael Fabricant asked when it would be made fully accessible.
Transport Secretary Patrick McLoughlin said work was expected to start in the summer of 2016.
He said Network Rail was currently designing a scheme for the station.
Lichfield was one of 42 stations named by the DfT in April 2014 to benefit from Access For All funding.
Network Rail said the projects typically involved building lifts for platforms where there was no level access.
Mr Fabricant has previously described the situation for disabled passengers wishing to travel on either the West Coast Mainline towards Birmingham or the Cross City line as "totally unacceptable".
"It's quite urgent work. The station's on two levels. If you get to the car park you can't get to the Cross City line or the West Coast mainline that runs to London," the Conservative MP said.