Fenton Town Hall: Court sale plans disappoint campaigners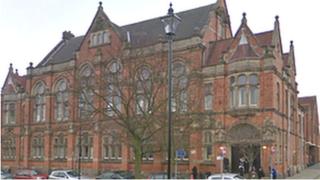 Campaigners say they are considering legal action after the government said it was seeking a "commercial sale" for a former magistrates' court in Stoke-on-Trent.
Community group Urban Vision said it had offered to buy Fenton Town Hall for £100,000 but this had been "dismissed".
The Ministry of Justice (MoJ), which owns the building, said it had a duty to get "best value" for taxpayers.
In November, campaigners occupied the hall to protest at the sale.
'At risk'
Dave Proudlove, from Urban Vision, said the MoJ seeking a commercial sale was "incredibly disappointing".
"We are taking some legal advice around the process the MoJ has followed in this case," he said.
"We put together a community asset transfer request in July but heard nothing for five months. It wasn't until residents took direct action, in November, that we had any engagement with them."
He added that although the MoJ had offered to sell the building to Stoke-on-Trent City Council, it had "dismissed" selling to the community.
He said residents proposed to use part of the complex to generate an income that would "sustain the community and civic functions we want to see there".
Residents say a World War One memorial is at risk of being destroyed if the building is sold.
However, the government has said "a legal covenant" means any buyer would have a duty to preserve the memorial.
The MoJ said: "We made an offer to transfer ownership of the former magistrates' court to the council for a peppercorn, but this offer was declined.
"We now have a duty to get best value for the taxpayer by disposing of a building which has been empty for over two years, and have entered the process of a commercial sale."