Support Stafford Hospital demonstrators to leave site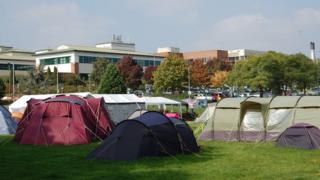 Protesters who have camped outside Stafford Hospital for six months have announced they will leave on Saturday.
The Support Stafford Hospital campaigners are opposed the transfer of services to the University Hospital of North Staffordshire.
They now plan to open a campaign office and stand as independent candidates for Stafford Borough Council.
Since July, the group has been situated at the entrance of the hospital in Weston Road.
"Campers and campaigners have decided to stand as independents for Stafford Borough Council so, starting from the ground up, there will be proper scrutiny of the decisions taken in our local health services," the statement said.
The Mid Staffordshire NHS Foundation Trust, which ran Stafford Hospital, was dissolved in November after a £6m inquiry into care failings.