Staffordshire Police officer gets new eye following shooting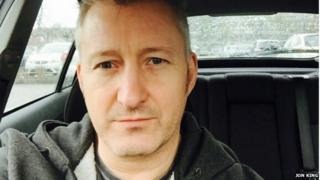 A police officer who was shot in the eye while on duty has had a prosthetic replacement fitted.
Sgt Jon King, from Staffordshire Police, lost his right eye after being shot with a rubber bullet in October while helping ambulance staff deal with an aggressive patient.
Sgt King, 48, said his new eye was "incredibly life-like".
A 34-year-old man was detained under the Mental Health Act following the incident in Rugeley.
Sgt King, who has retained the sight in his left eye, underwent surgery to have the acrylic eye fitted on 12 February.
He said the replacement "felt brilliant".
"I can't see through it but it's so life-like," he said. "It makes me feel as if I can see better."
Previously, Sgt King wore an implant with a clear contact lens, or conformer, which made his eye look "bloodshot", he said.
"What they have done is match my prosthetic eye to my new eye," he said.
He said the prosthetic eye was a temporary fitting, which would be followed up by a permanent replacement, provided his body doesn't reject it.
Sgt King is currently on sick leave from the force while further surgery is carried out.
He has served with Staffordshire Police for 26 years.
Chief Constable Jane Sawyers said: "Sgt King's determination and courage, together with lack of self-pity, is truly inspirational.
"The force will continue to support Jon and his family in any way we can."