Arson-hit Salvation Army Stafford base rebuild starts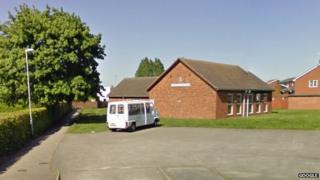 Work has started on rebuilding a Salvation Army base in Stafford badly damaged in an arson attack last year.
In August, the fire quickly spread from a wheelie bin next to the building on Faraday Road, destroying the roof and much of the interior.
Rebuilding the base is expected to cost more than £300,000 and should be completed in June.
Church meetings and other events have been held in nearby venues over the last six months.
'Amazing' response
"The initial reaction was shock and grief," Linda Downward, from the Salvation Army, said.
"We held a service outside on the following Sunday to let people reconcile their emotions."
She said the response from the local community had been 'amazing'.
"The day after the fire the local children's centre rang me and asked 'is there anything we can do?'
The Ministry of Defence and a local housing association also offered them the use of their facilities.
Ms Downward said there was still a "long way to go" before they move back into the building and that money needed to be raised to furnish and equip the interior.