Fenton Town Hall: Buyer found for former magistrates court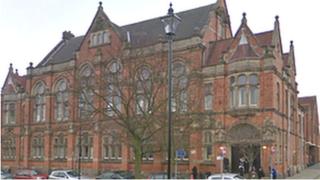 A buyer has been found for a former magistrates' court in Stoke-on-Trent, the Ministry of Justice has confirmed.
Plans to put Fenton Town Hall on the market prompted protests last year by campaigners, who staged a sit-in lasting several weeks.
A bid by local group Urban Vision, who hoped to open it up for community use, was rejected last month.
Protesters feared a World War One memorial could be destroyed if the building was sold.
However, the government has said "a legal covenant" means any buyer would have a duty to preserve the memorial.
The Ministry of Justice has not confirmed the identity of the buyer.
The building was one of 93 courts in England and Wales identified for closure in 2012, as part of measures expected to save £41m.