Lichfield fire engine could go amid fire service budget cuts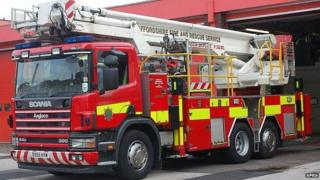 Lichfield could lose one of its two fire engines and see firefighter shift times reduced by an hour in an attempt to save money.
Staffordshire Fire and Rescue Service has saved £4m since 2010 and must cut a further £5.7m over the next five years.
Chief Fire Officer Peter Dartford said any changes "would not compromise the safety of the community or of the firefighters".
A 12-week public consultation is due to begin on 12 March.
Mr Dartford said the service's "proactive prevention and protection activities" had already reduced the number of incidents, and savings were to be made by "doing things differently but achieving better outcomes".
He said no final decisions had yet been made and the service was keen to discuss possible options with members of the community and with the service's staff.