WW1 overseas Victoria Cross recipients honoured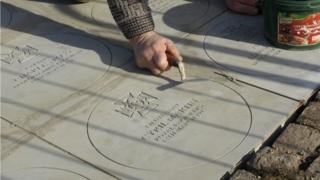 Overseas Victoria Cross recipients from World War One have been honoured at a ceremony at the National Memorial Arboretum.
Specially designed slabs have been laid at the site in Staffordshire to mark each of the 145 VCs awarded.
Each stone includes the name, rank and regiment of the recipient and the date the medal was won.
At the event, David Cameron paid tribute to the "remarkable valour and devotion to duty" of the men.
"It is absolutely right that here in our National Memorial Arboretum where so many acts of courage are commemorated, these paving stones should provide a permanent memorial to heroes from 19 different countries around the commonwealth whose bravery and service won them the Victoria Cross," he said.
Victoria Cross
Britain's highest military honour, the Victoria Cross is awarded for "for valour" in the face of the enemy
It was brought into existence by Queen Victoria in 1856 to honour acts of bravery in the Crimean War
The VC can be awarded to a person of any rank in any service and civilians under military command
The cross is made from the bronze of Russian guns captured at Sebastopol, though research suggests a handful were made from other sources
Source: Ministry of Defence
Among those remembered was Australian Corporal Walter Brown, who successfully stormed a sniper's post in July 1918, forcing the enemy to surrender after punching one of them and threatening the others with a Mills bomb.
"The First World War was a truly global war, and one which pulled in people from every corner of the earth," Communities Minister Lord Tariq Ahmad said.
"The stone that will lay in the National Memorial Arboretum for Walter is a small token of our gratitude.
"I hope that for many years to come it will remind us all of the gallantry of the brave men who fought for Britain and their role in the history of the First World War."
More than 480 slabs are being been laid across the UK and Ireland during 2014-18. Many of them are being unveiled in the home towns of each of the WW1 VC winners.