Battle of Neuve Chapelle: Indian troops in WW1 battle remembered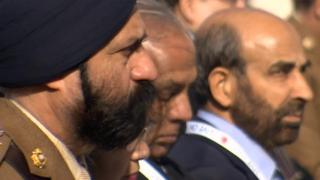 A memorial service has been held to mark the centenary of the first battle in World War One to involve significant numbers of Indian troops.
The ceremony at the National Memorial Arboretum in Staffordshire remembered the Battle of Neuve Chapelle.
The Royal British Legion, which organised the event, said the Meerut Division of the Indian Corps played a "major role" in the fighting.
More than 7,000 British and 4,500 Indian troops became casualties.
Battle of Neuve Chapelle
10-13 March 1915
Fought near Lille in northern France
Rifleman Gabbar Singh Negi won the Victoria Cross during the fighting
The British and Indian troops were commanded by Sir Douglas Haig
He called off the offensive after three days and ordered troops to consolidate the small amount of land they had gained
The ceremony was attended by Ranjan Mathai, the High Commissioner of India and Paul Sabapathy, the Lord Lieutenant for the West Midlands.
Bob Gamble, from the Royal British Legion, said: "The fact of the matter is the Britain that is this cosmopolitan today is a result of, amongst other things, the one million Indians who came to fight in World War One."