Wedgwood collection to go back on display in June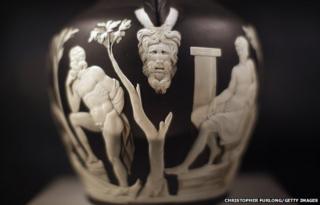 The Wedgwood Collection will go back on show in Staffordshire in June after £15.75m was raised to save it.
About 80,000 ceramics, paintings, manuscripts and photographs were under threat of being auctioned to help pay off the pottery firm's pension debt.
But the collection was bought from administrators and the Wedgwood Museum, which houses it, will reopen in Barlaston in three months' time.
A separate new visitor attraction will open in May.
The World of Wedgwood, at the Wedgwood Estate in Barlaston, will include factory tours and hands-on ceramic making.
The estate will open to the public on 18 May following a £34m redevelopment at the site, which delivers more than half of Wedgwood's global ceramic production.
More than 250 years of ceramic production will be on display at the Wedgwood Museum.
The museum collection was bought from administrators after the Art Fund led the public fundraising campaign.
The Art Fund gifted the collection to the Victoria and Albert Museum, who, as guardians of it, permanently loaned the items to Wedgwood for them to remain in their "natural home", the pottery firm said.