Nantwich Aqueduct work postponed to help local traders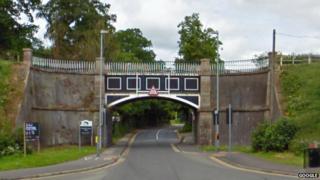 A £200,000 restoration of a listed aqueduct has been postponed to minimise disruption to local businesses.
Work on Nantwich aqueduct, carrying the Shropshire Union Canal over the Chester Road, was due to start this month.
The Canal and River Trust said after meeting local traders at an open day it will now start in September.
Project manager Marc Evans said: "This work needs to be carried out, but we are mindful of the disruption that the road closure will cause."
Nantwich aqueduct
Built in 1826
Designed by Thomas Telford
It is made up of a cast iron trough, supported on arches
The work is being funded by £135,000 worth of public donations and grants of £40,000 from Cheshire East Council, £20,000 from Nantwich Town Council, £3,000 from Acton, Edleston & Henhull Parish Council and 2,000 from the Nantwich Partnership.