Pedal Peak cycle route: Works starts on part of £7.5m path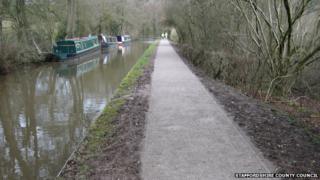 Work has begun on a new section of a £7.5m cycle route linking Staffordshire with the Peak District National Park.
A 6km (3.7 miles) section of the Caldon Canal towpath from Stockton Brook to the Flint Mill in Cheddleton is being converted for the Pedal Peak route.
Work will also start on the on-road section from Cheddleton linking Stockton Brook to the Manifold Trail and the gateway to the national park.
Staffordshire County Council said the work was due to be finished in April.
Councillor Gill Heath said: "Hundreds of people, including families are already using the new path and I'm sure we'll see even more visitors to the area as the summer approaches."
Pedal Peak route
The White Peak Loop will connect the Monsal and High Peak Trails into Matlock and Buxton
The Little Don Link skirts the edge of the Peak District from Sheffield along a disused railway to join the Trans Pennine Trail in Barnsley
The Staffordshire Moorlands Link uses the Caldon Canal towpath and signed on-road routes to link Stoke-on-Trent with the Manifold Trail and the Roaches
The Hope Valley Link complements the Little John Route, a Sustrans-signed Sheffield to Manchester route across the National Park using a new off-road section along the Hope Valley
Awarded £5m from the government's National Park Cycle Fund
A further £2.5m has been put in by the Peak District National Park Authority, Staffordshire County Council, Barnsley Metropolitan Borough Council and Sheffield City Council
.