Lichfield Cathedral saved from 'possible closure' by £800,000 grant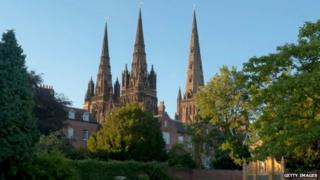 An £800,000 grant to rewire Lichfield Cathedral has saved it from possible closure, according to its dean.
The grant - the biggest awarded by the First World War Centenary Cathedral Repairs Fund - will be used to replace 1950s lighting and wiring.
The cathedral was told by its insurance provider that it would have to close to the public if it failed electrical safety tests.
The last time the cathedral closed was during a Civil War siege in the 1600s.
The Very Rev Adrian Dorber said the thought of closure was "heartbreaking".
The project will see the wiring brought up-to-date and lights will be replaced with energy-saving fittings which will "enhance architectural features", the cathedral said.
Electrical work is also expected to save money on running costs.
The money marks the final round of grants made available as part of a £20m World War One centenary fund announced last year.
History of Lichfield Cathedral
700: Bishop Hedda built a church on the current site to house his bones
1085: Work begins on the Norman cathedral - building work continued for 200 years
Circa 1200: Work begins on the present Gothic-style cathedral - building work carried on for 150 years.
In the English Civil War Cathedral Close was fortified and became a Royalist stronghold
1643 and 1646: Besieged by Parliamentary forces and cannonballs fired into the cathedral
1950s: Major restoration work
2014: £3.7m restoration of Herkenrode stained-glass windows
Source: Lichfield Cathedral