Staffordshire University in £40m revamp plans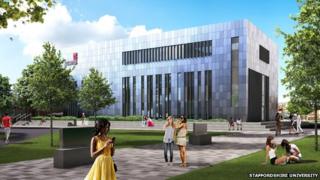 Plans have been revealed for a £40m redevelopment of Staffordshire University's main campus.
The proposals include refurbishing existing properties in Stoke-on-Trent and building new facilities on College Road.
The university is aiming to close its Beaconside campus in Stafford by 2016, with some 2,400 students moving to Stoke-on-Trent.
This includes the computing and entertainment technology courses.
Margaret Monckton, in charge of estates for the university, said while planning permission had yet to be granted, initial work was expected to start in June and be completed by September 2016.
She said the plans would create a better experience for students.
The new building on College Road will house general teaching blocks, as well as a cafe and social areas.
The university is also looking to provide extra parking and accommodation as part of the move from Stafford, which will see a total of 9,000 full-time students based in Stoke-on-Trent.
Nursing and midwifery students, however, will remain at Stafford's Blackheath Lane campus.