Stafford Recorder Judge Simon Tonking attacks court cuts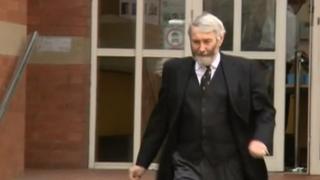 One of the most senior judges in the Midlands has attacked what he described as the "chronic underfunding of the criminal justice system".
Judge Simon Tonking is stepping down as Recorder of Stafford after almost 40 years in the legal profession.
Speaking in court, he said he felt "beleaguered" as cuts to court staff meant there were "no longer enough people to cope with the workload".
The Ministry of Justice disputed the comments.
A spokesperson said the system continued "to be funded effectively so justice can be delivered, while ensuring we improve efficiency and provide value for money".
"We are currently investing over £500m in modernising the courts, and introducing the latest technology," they added.
"We are determined that our justice system delivers the right outcomes for victims of crime and the public as a whole, and we are using the latest technology and joined up working to ensure this happens."
'Morale damaged'
However, speaking in court on Wednesday, Judge Tonking said cuts "often sold under the banner of efficiency" had had "quite the reverse effect".
As a result, he said judicial directions were "frequently disobeyed".
"Time - often measured in hours rather than minutes - is lost to the deep frustration of all these in court, not least complainants, witnesses and even some defendants," he said.
Judge Tonking added that morale had been damaged among the judiciary, court staff, probation service, the CPS and the legal profession.
Senior barrister Richard Atkins said he backed Judge Tonking's comments and that "deep" cuts to the court system meant it was now "struggling".