Stoke-on-Trent and Cheshire jobs agreement election delay fears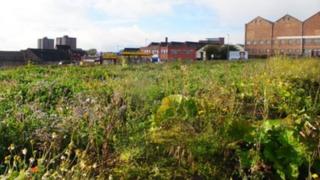 There are fears a bid by two councils to bring jobs and government money to Stoke-on-Trent and eastern Cheshire may be delayed by the election.
The High Growth Strategy Concordat, a joint bid by Cheshire East Council and Stoke-on-Trent City Council, was due to be unveiled this week.
The BBC understands it has been delayed until after the election, and there are fears this may make government approval more difficult.
The councils said the bid is "ongoing".
---
The deal
The BBC understands the High Growth Strategy Concordat has been designed to:
Boost the economies of East Cheshire and Stoke-on-Trent by £10bn per year
Create 100,000 new jobs by 2040
Lead to the building of 100,000 new homes
Focus regeneration on Stoke-on-Trent, Crewe and Middlewich
---
The local authorities have also agreed that about 7,000 new homes due to be built over the next few years would be directed towards Stoke-on-Trent instead of Cheshire.
This could help Cheshire East Council prevent houses being built on greenfield land - directing developers instead to brownfield sites in Stoke-on-Trent.
'Still ongoing'
A launch planned for this week has now been delayed until after the general and council elections.
A local authority source has told the BBC there are concerns it may be more difficult to make a bid to the future government after the election, leading to further delays and creating doubts about the viability of a deal.
The issue will be discussed by Cheshire East Council's ruling cabinet next week.
In a statement, Stoke-on-Trent City Council's chief executive John van de Laarschot said: "These are complex discussions and, while some broad principles are in the process of being agreed, this is very much still ongoing as we explore what this could mean for each organisation."
Cheshire East Council's chief executive Mike Suarez said the agreement would further encourage the government and others to invest, "whatever decision is made about the location of the North West hub station for HS2".