Chadsmoor war dead honoured with memorial after 100 years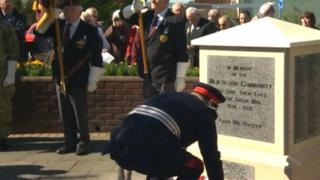 A memorial has been unveiled to honour 160 men who died fighting in World War One but were never publicly commemorated.
Families of the men, from the former mining village of Chadsmoor near Cannock in Staffordshire, raised £12,000 for the stone.
The obelisk was dedicated by the Bishop of Wolverhampton.
The campaign for a memorial was started by Chadsmoor Local History Society, which gathered the names of the fallen.
It is thought there had been no memorial erected after the war because villagers had been too poor to pay for one, the society said.