Stoke mum guilty of cremating son without father's consent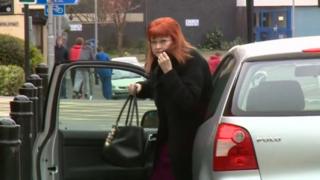 A woman has been found guilty of misleading a funeral director after her son was cremated without her ex-husband's knowledge.
Cathleen Hackney, 56, from Blurton, Stoke-on-Trent, signed forms claiming there were no objectors.
Ex-husband Paul Barber had not given his consent, Stoke Crown Court heard.
Hackney was found guilty of signing a false certificate and making a false representation under the 1902 Cremations Act.
She will be sentenced at a later date.
Hackney was acquitted of a third charge of signing a false certificate relating to one of two funeral directors involved.
Her 32-year-old son Paul Moreland died in hospital on 11 November 2010 from a long-standing condition and was cremated just over a month later.
'Unforgivable' actions
Jurors heard his cremation was "slotted in'' for 09:30 on 20 December, a time usually reserved for people with no mourners, without the knowledge of his father. Hackney herself did not attend.
Prosecutor Deborah Gould told the court the defendant had informed "two different funeral directors, at two different times, that there were no objections from anyone".
"The first time she [Hackney] did this she simply didn't know whether Mr Barber objected to the cremation or not," Ms Gould said.
The defendant later "pressed ahead" when she learnt of Mr Barker's objections, it was said.
During the four-day trial, the jury heard a second funeral director had been approached after the first became "troubled'' and told Hackney he could not continue with the arrangements.
The court was told she and Mr Barber divorced in 1983 in "acrimonious" circumstances.
Speaking after the verdict, Mr Barber said the jury's decision meant "justice" had been done and gave him a sense of "closure", but described his ex-wife's actions as "unforgivable".