Man jailed for life over Eni Mevish murder in Stoke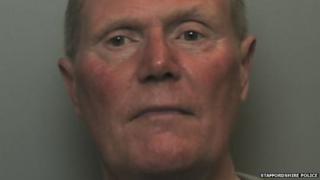 A man has been jailed for life for the murder of a student found stabbed at her flat in Stoke-on-Trent.
David Marshall, 68, of Birks Street in the city, had admitted murdering Eni Mevish, 20, who was found injured in Cauldon Road, Shelton, in November.
At Stafford Crown Court, he also pleaded guilty to wounding a 22-year-old man, who was stabbed trying to stop the fatal attack.
Marshall was told he would serve a minimum of 20 years and six months.
Judge John Wait informed Marshall it was likely he would die in prison and would not be considered for parole until aged at least 88.
The court heard Marshall had been on licence at the time of the murder, having served a three-year sentence for indecently assaulting a 14-year-old girl.
It was one of 27 previous convictions, from 17 separate court appearances.
Judge Wait was told Marshall stabbed Ms Mevish through the heart, liver and lungs.
In all she suffered 16 separate wounds, inflicted with a 10-inch blade.
Det Insp Andy Maxfield said Marshall and his victim were known to each other and that it was "not a random attack".
"Through our detailed investigation we established that in the months prior to Eni's death she had struck up a friendship with Marshall," he said.
She is believed to have met him about six months before her death while out jogging.
The court heard Ms Mevish had occasionally been overheard calling Marshall "dad" and on the night of the attack on 9 November, he let himself into her flat using a key.
Defence barrister, Patrick Thompson, said Marshall could not recollect the "extremely wicked" murder or explain why he had carried it out.
In sentencing, Judge Wait said Marshall had appeared to be jealous of Eni's other friendships.
"It was a condition of your licence that you notify your supervising [probation] officer of any developing friendship with a woman," he said.
"It is noteworthy that you failed to tell your supervising officer of the relationship, though you were asked on many occasions."
Ms Mevish was studying for a degree in policing and criminal investigation at Staffordshire University and has family links to the Manchester area.
Speaking after the sentence, her brother Syed Shah, 31, said: "She was beautiful, clever and had her whole life ahead of her.
"We are devastated by her death. Nothing can make up for that but we are glad Marshall is now paying for his actions."
Prof Andrew Jackson, who lectures in forensics and crime science, said it was a "tragic loss" and that she was an "able, enthusiastic and conscientious student".
Marshall was also jailed for 30 months - to run concurrent with the murder sentence - for wounding the 22-year-old from Wolverhampton, who had tried to stop the attack.
"It is clear from the number and position of the wounds that you had an intention to kill," Judge Wait said.