Stephen Sutton's mother's London Marathon 'was amazing'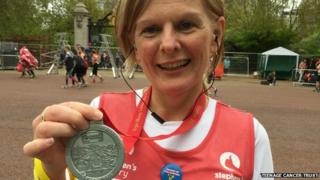 The mother of the cancer fundraiser Stephen Sutton has said running her first London Marathon had been one of the "most amazing" days of her life.
Stephen, 19, from Burntwood, Staffordshire, died last May after launching an appeal that raised more than £5m for the Teenage Cancer Trust.
Jane Sutton promised him she would run the marathon, which she completed in just over six hours.
She said the promise had been "a driving force" throughout her training.
"It was tough going at times but all I had to do was remember why I was doing it.
"It was also one of the most amazing days of my life.
"I stopped and spoke to so many wonderful people along the route and it was an absolutely incredible atmosphere around the streets of London," Mrs Sutton said.
Stephen's "thumbs up" campaign attracted global attention after a photo of the teenager went viral online.
He raised more than £5m for the Teenage Cancer Trust, having initially aimed to reach £10,000.
Mrs Sutton's marathon run raised more than £12,000 in donations.