Staffordshire Police seek to ban 'boy racers' in Longton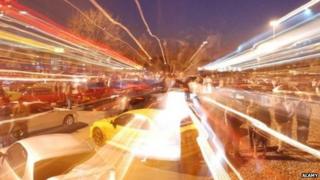 Police are trying to ban so-called boy racers from a town centre in Staffordshire after more than a dozen complaints.
Staffordshire Police said it received 13 reports of "nuisance behaviour" on the car park of Tesco in Longton between November and April.
The force has submitted an application to Stoke-on-Trent City Council for an order to stop "car cruising".
If approved, police will have the power to move people on, a spokesman said.
Sgt Mark Jones said: "We take any reports of car cruising, vehicle-related anti-social behaviour or excessive noise seriously and issues raised will be dealt with appropriately.
'Prevent gatherings'
"If any offences are committed action will be taken against those responsible."
He said police were working with Tesco, and partner agencies to resolve any issues caused by motorists driving anti-socially.
"An application has been submitted to Stoke-on-Trent City Council for a public spaces protection order (PSPO) to cover all of Longton town centre.
"If approved this would help to prevent large gatherings on car parks and gives police the power to move people on if they take place," he added.
The order is part of the Anti-Social Behaviour, Crime and Policing Act - which became law last year - and enables local authorities to ban certain activities they believe are having a "detrimental impact" on the quality of life.
Campaigners have said the new powers risk creating a "patchwork of laws", with variations in what is considered acceptable from town to town.