Woman rescued from flooded Trescott ford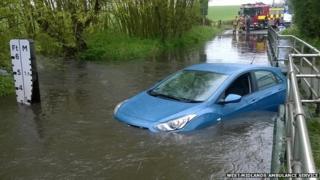 A woman has been rescued after her car became stuck in a flooded ford near Wolverhampton.
West Midlands Fire Service said heavy rain overnight had caused the ford to swell on Furnace Grange Road in the village of Trescott, Staffordshire.
Crews from Wombourne and Wolverhampton rescued the woman on Sunday morning, with the gauge on Smestow Brook showing the water to be almost one metre deep.
The fire service warned drivers to check water levels.
West Midlands Ambulance service said the woman, in her 30s, was uninjured, as was a man, who managed to escape from the car before emergency services arrived.