New £45m Stoke-on-Trent council house not 'satisfactory'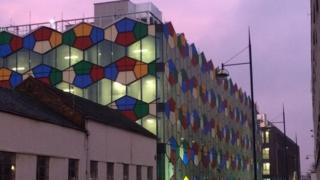 Building problems have caused delays in Stoke City Council's plans to move from its civic centre home into a new £45m headquarters.
The council originally said developer Genr8 would finish its Smithfield development by spring 2015.
However the Labour council leader, Mohammed Pervez, said the building was not "satisfactory" and the council would move in later in the year.
Opposition party leaders said the council was not being "transparent".
'Rumour after rumour'
David Conway, who leads the City Independents group, said: "We know nothing of what's going on.
"We were meant to move in there earlier this year and we're in May now.
"There's rumour after rumour but open transparency doesn't exist on this city council. When is it all going to come out?"
The council announced the move from its civic centre in Stoke-upon-Trent to the new building in Hanley in 2012.
It wants to promote Hanley as Stoke's "city centre".
Abi Brown, leader of the Conservative group, said she was "bemused" by why the council was moving premises at all.
"I can't see why we need to move to Hanley," she said. "It's important we have some sort of presence in the city centre but I'm not sure why there's been so much upheaval."
Mr Pervez said there was a problem, "with the precast slabs that make up the floor of the building".
He said the developers were addressing the issue.
"It is the job of the builder to make sure the building is satisfactory before handing it over," he said. "Once the developer has given us a date, we will move in.
"Our city centre has been failing for many years. Unless we lead the way in developing a central business district we are not going to see the jobs and growth we want."