Dimminsdale woodland blaze 'was accidental'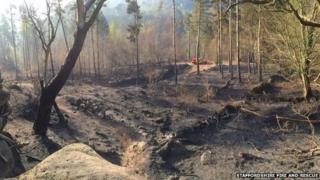 A blaze that "devastated" 10 hectares (25 acres) of Staffordshire woodland was probably accidental, the fire service has said.
Staffordshire Fire and Rescue Service said they had been unable to clarify the "exact cause" of the fire in "picturesque" woodland at Earls Rock, Dimminsdale in April.
The service said there was no evidence the fire was started deliberately.
"As such, it has been classed as accidental ignition," it said.
'Careless act'
Group manager for the north of the county Glynn Luznyj said: "I would urge people to be particularly careful while visiting places such as this woodland.
"A careless act has the potential to reap serious consequences."
The blaze was one of three in the county on the same day, with other fires taking place in Newcastle-under-Lyme and Stone.
Over recent years the service has faced recurring problems with moorland fires.
In 2013, over just one week in April, it said crews had been called out to 70 deliberate fires.