'Nello' Baldwin's Bafta ceremony 'greatest night of life'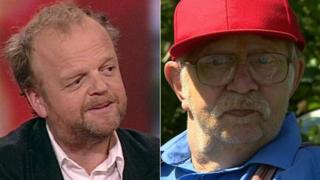 The real-life inspiration for Bafta-winning docudrama Marvellous has called the award ceremony the "greatest night of my life".
Neil "Nello" Baldwin, an ex-clown and former kit man for Stoke City FC, was the subject of the BBC biopic which won best single drama.
Mr Baldwin, who has learning difficulties, said he always knew the film would scoop the top prize.
Gemma Jones won her first Bafta for her portrayal of Mr Baldwin's mother Mary.
As a young man Mr Baldwin had an unskilled job in the Staffordshire Potteries.
But when a circus came to town in the 1980s, in circumstances that are somewhat unclear he joined up as "Nello the Clown" - a nickname he retained.
A lifelong fan of Stoke City FC, he struck up a friendship with then-manager Lou Macari who gave him a job as kit man and mascot at the club.
Marvellous came about when writer Peter Bowker read about Mr Baldwin, from Newcastle-under-Lyme in Staffordshire, in an article in the Guardian.
"I have long been interested in how we use labels to limit the people we are describing - even, at worse, to dehumanise them.
"Neil - despite being labelled and to some extent written off as a young man - struck me as a man who defied those who wished to define him," said Mr Bowker.
Mr Baldwin, 69, who wore a gold jacket and bow tie, made a winner's speech at the award ceremony.
"Everything's come true. I said [the film] would win a Bafta.
"I thank the Lord for what He's done for me. And I'm very pleased the Queen is still going strong".
Mr Baldwin, along with 1966 World Cup-winning goalkeeper Gordon Banks, is to be awarded the freedom of Stoke-on-Trent on 21 May.