Stafford's County Hospital child ward closure prompts rally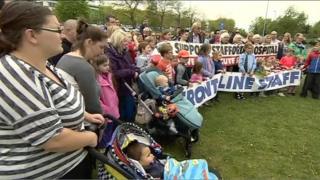 Campaigners have been staging a rally outside Stafford's County Hospital to mark the end of paediatric services in the town.
The children's ward closed earlier and youngsters will now be treated at the Royal Stoke Hospital.
The move is part of several changes to services at the hospital, formerly Stafford Hospital.
The Support Stafford Hospital campaigners gathered to thank ward staff for the work they had done.
Julian Porter, from the campaign, said the ward had been a "lifesaver" for many young people.
All consultant-led maternity care was moved to the Royal Stoke University Hospital in January followed by gynaecology, acute surgery and trauma.
Patients and campaigners have voiced concerns at the plans, saying peoples' safety could be put at risk because of extra journey times and fears the Royal Stoke Hospital would struggle with demand.
University Hospital North Midlands NHS Trust (UHNM) took on the County Hospital in October, after the previous hospital trust was declared clinically and financially unviable.
It was at the centre of a major public inquiry into care failings from 2005 to 2008.